Rebalancing workflows have been enhanced in v7.16.1. The article below overviews the minor changes as well a new button and modal locations along the Rebalancing process.
The new Run Rebalance review modal is overviewed at the bottom of this article
Bulk Account, Household, or Group rebalances can be initiated from various locations with the system. The most common being Model or Model Sleeve rebalances.
Model & Model Sleeve Rebalances
Navigate to the Model or Model Sleeves listing page. Updates to the Action buttons in the upper right:

Bulk Action - Will allow you to Rebalance or Delete multiple Models or Sleeves at once. This action button will only be available when 2 or more items are selected.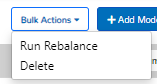 To Rebalance a single Model or Model Sleeve utilize the ellipses action dropdown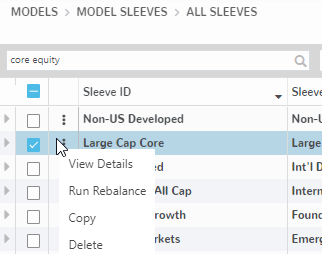 Account, Household, or Group selection
Similar to previous version after initiating a Rebalance you will be able to select desired Account, Households, or Groups to process the rebalance for. To perform the rebalance for all associated Accts, Households, or Groups displayed leave all items unselected and hit the 'Add' button in the bottom right.

Run Rebalance Review Modal
The new Run Rebalance review modal will be displayed when a user selects a sub-set of available accounts, households, or groups to rebalance.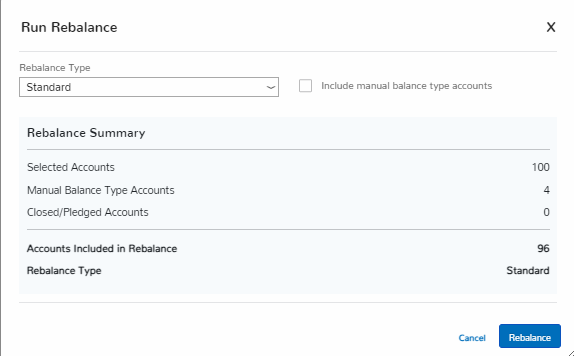 Rebalance Type - This dropdown will allow you to select the desired Rebalance Type to be utilized
Include Manual Balance Type Accounts - This selection will allow the user to rebalance any Account(s) set to Manual balance type as if they were set to Standard. Previously this required updating the balance type at the Account level
Rebalance Summary - A count of all selected Accounts, Households, or Groups as well any Account(s) set to the Manual balance type, or marked with the Closed or Pledged account status